Bluffton, South Carolina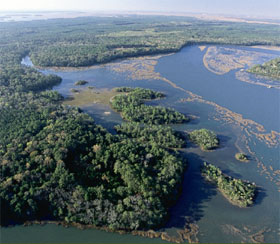 Situated high on a bluff overlooking the May River, Bluffton continues to be one of South Carolina's fastest growing small towns. The population has nearly doubled since the 2000 census, largely due to the temperate climate, affordable housing and low cost of living.
At one time a tiny community, the recent annexation of 32,000 acres made Bluffton the fifth largest town in South Carolina by land area. Most of that land is still being developed, but government officials and residents are committed to maintaining the town's rich historic heritage.
Settled in 1825, Bluffton was a popular vacation spot for wealthy rice and cotton planters intent on escaping the heat and insects rampant in nearby Savannah, Georgia. Because of its prime deep-water location nearly 20 miles up river, Bluffton quickly gained importance as a shipping channel even more so than Savannah and was hit hard by pre-war tariffs levied by the federal government on Southern shipping ports. By 1844, planters felt they had suffered enough. They gathered at what is now known as the Secession Oak to discuss seceding from the Union. Sixteen years later, in 1860, South Carolina became the first state to declare its independence from the United States.
" Sportsmen will enjoy Bluffton's proximity to both freshwater and saltwater fishing. ... "
It was the town's long-standing reputation for secessionist rhetoric that led to its complete destruction at the hands of an overwhelming force of Union soldiers on June 4, 1863. When the dust settled, dozens of churches, homes and other buildings were all but gone.
Today, Bluffton is a thriving community of more than 2,300 residents. The town attracts people of vastly different backgrounds and occupations, from artists to scientists, many of them seeing Bluffton as a more affordable alternative to the higher-priced housing in nearby Hilton Head Island and Savannah. This growth has contributed to the opening of retail, grocery and restaurant chains, along with many golf courses.
Sportsmen will enjoy Bluffton's proximity to both freshwater and saltwater fishing, while landlubbers can choose from a variety of activities, such as golf on one of the two dozen nearby courses. Bluffton is just a short drive from the beaches, fine dining and shopping available in Hilton Head Island and the historic city of Savannah.