Greenville, SC Top 10 Home Builders
including Greenville and Spartanburg counties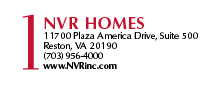 NVR Homes, headquartered in Reston, Va., is the corporate umbrella for Ryan Homes, NVHomes, NVR Mortgage and NVR Building Products. Ryan Homes was launched as a family business in 1948 in Pittsburgh and now builds homes in a wide variety of neighborhoods in South Carolina's Upstate.
With a presence in 18 metropolitan areas in 11 states, Ryan Homes focuses on customer service, award-winning designs, quality construction, affordable prices and interesting communities. The company, which has built more than 300,000 homes during the past six decades, offers single-family homes, town homes and condominiums. Ryan builds for people of all ages and in all stages of life, from first-time buyers to empty-nesters.
Ryan Homes can be found in a large number of neighborhoods in the Greenville County area, including Townes at Pine Grove, Forrester Heights and Plantation Greene in Greenville; Cobb's Creek and Glen Lake in Boiling Springs; Pebble Creek in Taylors; Woodland Creek in Travelers Rest; and Twin Creeks, River Shoals, Gresham Park, Ravenwood, Highgrove and Southbrook in Simpsonville.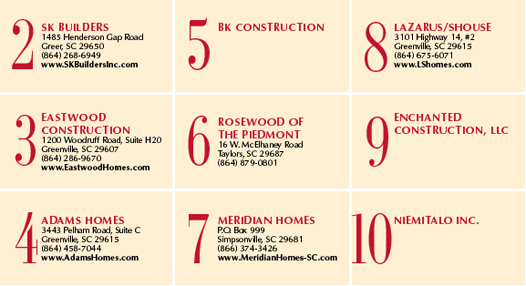 RANKINGS BASED ON TOTAL 2010 DEED TRANSFERS,
AS REPORTED BY MARKET OPPORTUNITY RESEARCH ENTERPRISE,
KNOWN AS THE M.O.R.E. REPORT