A Wexford Classic - Hilton Head, SC Harbor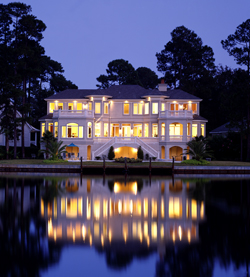 Palms Sway gently as the sun sets over Wexford Harbor on Hilton Head Island, casting soft evening light over the British Colonial-style home of William and Susan Busch. Built in the neoclassical style, Roman Corinthian columns embrace the entry, welcoming visitors into a gracious residence with outstanding water views.
In the grand foyer, a magnificent 22-karat beaded crystal chandelier gleams brilliantly above warm, golden walls, set off radiantly by gold leaf on the dome.
Past the front study, brimming with trophies from Bill's college hockey days, the curved floating stairway in white oak and wrought iron was a custom design. Susan's sitting room is a study in light aqua and ivory, with silk taffeta panels on windows to offset deep brown walls. Susan credits interior designer Carla Jaynes of River Interiors for introducing color and fine fabrics that are as casually elegant as they are comfortable.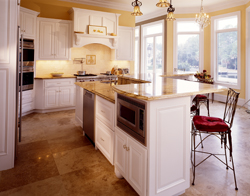 Inspired by the island's natural setting, Susan knew she wanted lots of color, golden yellows, greens and reds. "This is where collaboration with Carla was key," Susan says. "Choosing color, the fun of finding interior fabrics available only through the trades, embellishing with custom details and subtle finishes. That's what makes our home so personal, enjoyable and comfortable."
The dining room mixes heirloom pieces with informal furnishings. "Here we did a custom mix of red faux paint with a gold glaze, 22-karat gold leaf crown and a subtle gold faux finish on the ceiling," says Jaynes.
Warm and inviting sunshine fills the home, an important consideration to Bill and Susan, who "wanted a comfortable home where everyone gathers, with room for sons Bill Jr. (B.J.) and Gregory and daughter Sarah."
"We had the luxury of working with a trapezoidal lot," explains architect Edgar Wiggins II of Wiggins & Associates. "This allowed us a certain advantage. The residence graciously extends toward the water and takes in spectacular harbor views."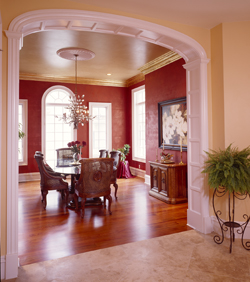 Wiggins, one of the oldest architectural firms on Hilton Head Island, has a well-established reputation for distinguished homes. "I work in the classical style and incorporate contemporary elements. I like to work with open spaces where people gather," says Wiggins. Susan calls this her dream home and knew ahead of time what she and Bill wanted. "I did a rough sketch," she laughs, adding, "We wanted a friendly, livable home on the water. And we knew immediately when we met Joe Nix that he was the builder to build it for us."
With close to 25 years in the industry, Nix has the benefit of experience and superb credentials. "To me, working with a customer is an opportunity to develop a lifelong friendship," says Nix. "Over the years, I think we've done a good job building relationships. Most of the work we've done in the past two years has been with repeat clients. To me, this says a lot about who we are."
Extensive views of the harbor are the first thing you see in the chef's kitchen, designed with an easy flow for entertaining, with custom granite and travertine flooring. The space opens up to 23-foot ceilings over the mahogany bar, accented with stained glass windows. Soft green walls cool the Carolina room as French doors open to a sitting balcony with pool and water views.
Mocha walls in the family room complement the handsome custom-designed masonry fireplace. Facing the fire, a generous red leather sofa pairs with comfortable furnishings. In the master suite foyer, an arched entry leads to a bedroom with a distressed French Habersham king bed and soothing views framed in pale yellow and serene aqua. With harbor waters shimmering under early evening skies, it's a restful retreat at day's end.
For information about A WEXFORD CLASSIC: Timeless Splendor on the Harbor and the surrounding area contact Joe Nix of Nix Construction
STE 200, The Professional Bldg
Hilton Head Island, SC 29928
Phone: (843) 341-2330
Visit my site: http://www.nixconstruction.com/
Email Me: jnix@nixconstruction.com